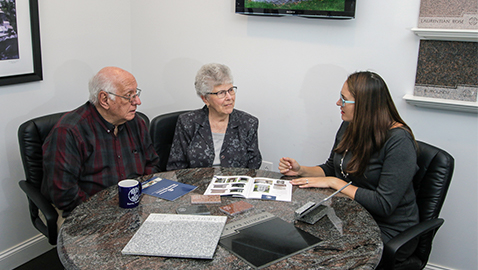 We appreciate the feedback we get from our customers about their experience selecting and customizing a headstone or memorial. Below are reviews we've received from customers for a few of our locations.
Visit one of our 10 headstone showrooms for help creating a custom memorial or headstone.
---
New Holland Location Reviews
"Weaver Memorials was very patient as we worked through the process of selecting a headstone. Not something that any parent wants to do… our representative, Dana, was kind and caring as we went through the steps, making sure we knew all our options. I highly recommend them."
– Denise Trupe
"The folks at Weaver Memorial were very supportive in helping me go through the selection process, while grieving. They were also open and willing to do something different when asked."
– Copia Webster
"We found the Weaver saleperson to be quite knowledgeable and helpful, explaining the different kinds of granite and other types of stones that could be used and their various characteristics. No pressure and very friendly. She understood the sobering emotions we were experiencing. The head stone was installed in a timely manner and looks exactly as we wished."
– Dale Cochran
---
York Location Reviews
"Great service and beautiful grave marker for my parent's graves. Great prices, compared to other places we checked. Thank you so much for the lasting memory for my parents. Would recommend them to anyone looking for a memorial for a loved one."
– Kathy Heckard
"The friendly and thoroughness that Jan offered us was very convincing that we had chosen the right place for our memorial. We were satisfied with all aspects of the service we received. Kudos to Jan!"
– Bob Stauffer
"I walked in not knowing anything about anything related to memorials. On top of that you're dealing with the worst tragedy there could ever be. I felt comfort throughout the experience as it felt personal on both sides. It wasn't just a job to do or a stone to sell. I couldn't be more pleased."
– Aaron Smith
---
Lebanon Location Reviews
"It was the most difficult time in our lives but Chelsea was very kind and had a lot of patience. We chose a stone that was different from any other we had ever seen before. The stone had to come from China so it did take longer than expected but that was mostly due to COVID. Chelsea answered every phone message quickly and kept us updated."
– Lisa Finneran
"This is going out to Chelsea for making sure my son's headstone was completed and her manager he made sure both Vase were placed today. I'm beyond happy for how dedicated she is to her job…she is truly a blessing and very respectful."
– Emma Flores
---
Reading Location Reviews
"Very nice and very thorough gave us the time we needed to look thru their options did not feel rushed even though we were there close to closing time Tim explained everything thoroughly we are first timers so we really didn't know what we were doing he helped with every step now to wait for the finished product."
– Mrs. Diaz
"Weaver's offers a large variety of options and choices in many different price points. I worked with Tim and he certainly helped make the process as simple as possible. He communicated regularly with updates and information via email and phone calls."
– Sharon Axe
---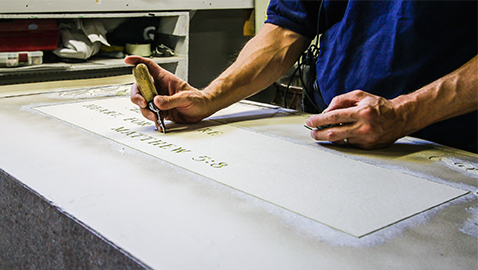 Learn More About Our Process
Great care and attention to detail is at the forefront of everything we do. Our process begins with Discovery where we learn about your loved one, your design preferences, and your budget.
About Our Process