A Symbol of Honor: A Handcrafted Granite Headstone
A traditional upright granite cemetery monument is sometimes referred to as a memorial, a headstone, or a tombstone. Upright granite headstones are available in a variety of sizes, shapes, and colors.
Each monument is hand crafted by our experienced stone artisans using the highest quality Rock of Ages granite. Our team is here to help you select and create a fitting and loving tribute for your loved one.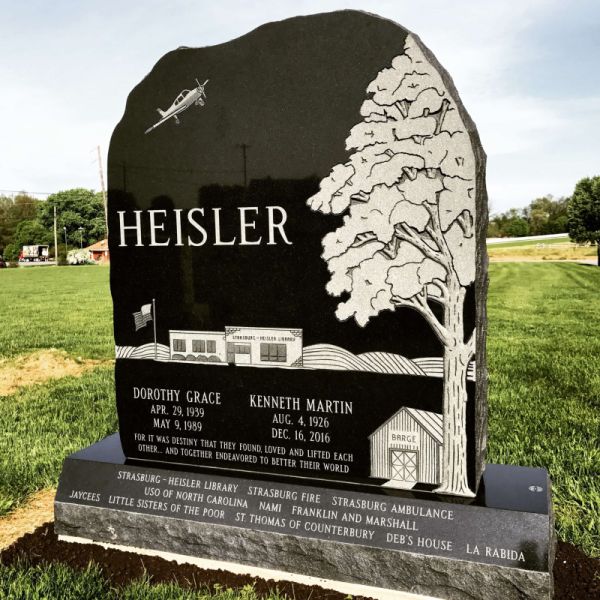 Create a Lasting Tribute
When a loved one passes, we know how important it is to honor their memory. A personalized headstone monument is a fitting way to celebrate their life for years to come. Our caring, compassionate staff can guide you through the selection, design, and installation of a granite monument that best honors your loved one.

"The finished product is perfect"
"Working with Josh, Madalyn and their staff was very easy as there is no pressure to sign on the dotted line. They allowed us to review numerous monuments at our leisure and were readily available to answer any questions and to go over options. Once we decided on a specific monument Josh drew a template on site for us to review. The "official" drawing was received a few weeks later which we updated twice to add additional features before signing off. The finished product is perfect and placed correctly in the cemetery. We would highly recommend Weaver Memorial for your monument needs."
–  Steven R. (Google review)
Upright Headstone Gallery
Find a Weaver Memorial Counselor in Your Area
Our team of representatives know everything there is to know about designing and installing monuments – even cemetery regulations. Patient and sensitive, they'll take the time to help you choose the right memorial to invest in. To find the location or phone number of one of our stores, please visit our locations page by clicking the link below.